Yesterday's update was based around Cathy Pearl's fantastic talk from the Voice summit around democratizing voice technology and using it to empower disabled individuals that can benefit from this technology. Today, I wanted to highlight another cohort that stands to gain from voice tech and that's our aging population. Prior to Cathy's talk, I attended an equally awesome session led by Davis Park of Front Porch and Derek Holt of K4Connect. I live-tweeted this talk as well (I'm sorry if I overloaded your twitter feed while at the summit!):
Really looking forward to this talk from Davis Park from @FrontPorchCS & @derekfholt – #VoiceFirst: a platform to enable older adult engagement pic.twitter.com/SoIQ88pMwH

— Dave Kemp (@Oaktree_Dave) July 24, 2019
To add some context here, K4Connect is a tech startup specifically geared toward building "smart" solutions for older adults. Front Porch, on the other hand, is a group of retirement facilities located in California that has been piloting a series of programs to implement Alexa-enabled devices into its residents' homes. The two are now working together to expand Front Porch's pilot to move into phase two, where K4Connect is helping to outfit Front Porch's residents with IoT devices, such as connected lights and thermostats.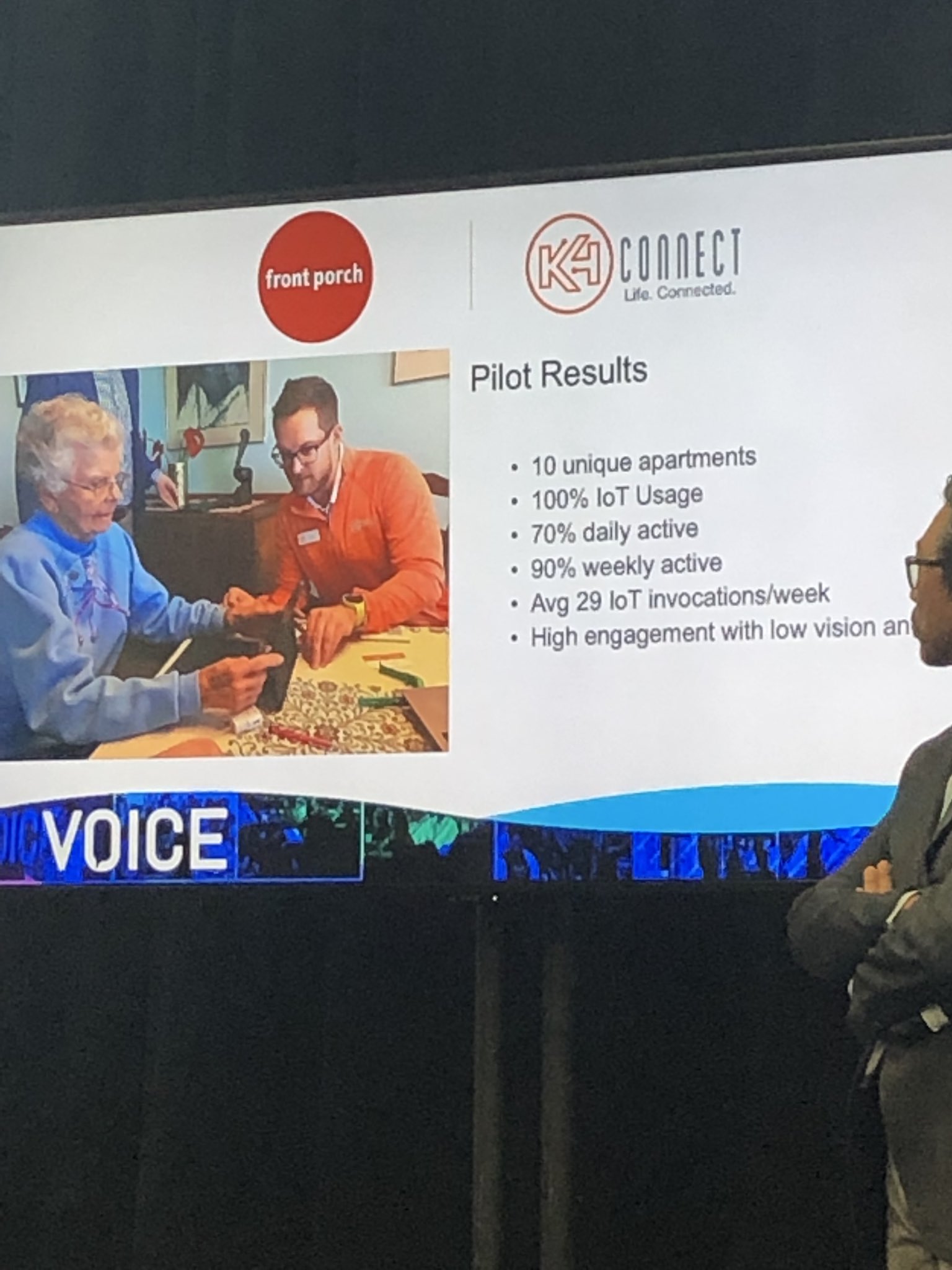 From my perspective, this was one of the most important sessions of the entire Voice summit. The reason I say this is because it honed in on two key facts that have been reoccurring themes throughout FuturEar:
America's population is getting considerably older due to the facts that we're living longer and 10,000 baby boomers are turning 65 years old every day for a 20 year stretch (2011-2030).
The older our population gets, the higher the demand climbs for caregivers to look after our aging adults. It was stated in the presentation that we as a nation will need to recruit and retain 300,000 additional caregivers to meet the 2026 demand. Again, the demand will only continue to go up based on the first bullet point.
The takeaway from this talk, similar to Cathy Pearl's, was that voice technology (namely, voice assistants and the IoT) can be implemented and utilized to offset the demand of the caregivers by empowering our older adults. One overlapping message from this talk and Cathy's was that caregivers are largely burdened by menial tasks (turn on the light, close the blinds, change the TV channel), and the individuals who are being cared for are hyper-conscious of this. It gets exhausting for the caregiver as well as those receiving care, because they know how exhausting it is for the caregiver. Well, Siri/Alexa/Google do not get exhausted, they're little AI bots, so who cares if you're issuing hundreds of commands a day. That's the beauty in this.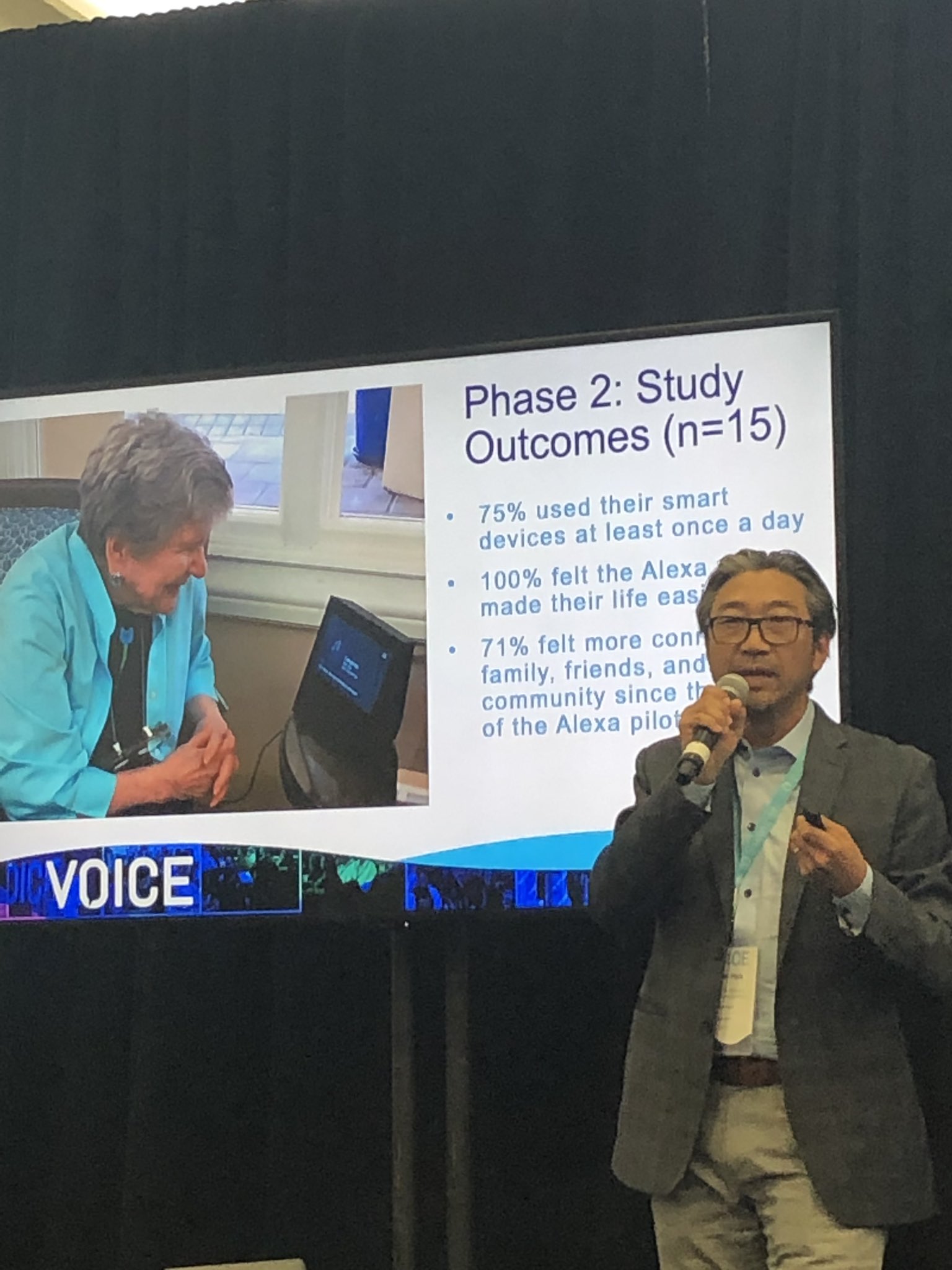 Following the talk, I spoke with Davis Park about their pilot and I asked him what the Front Porch residents are using their Alexa devices for. "It's completely different based on the resident. For example, one woman said she loves it because she can now make the perfect hard-boiled egg," Davis said. This was a total aha! moment for me, because sometimes we're not appreciating the nuanced ways individuals are finding value in the oft cited use cases of voice assistants today (weather, timers, news, scores, etc) that sometimes get belittled. On the surface, sure, she's finding value in being able to set a timer, but dig a little deeper and you'll find in fact that the value is because she's no longer overcooking her hard-boiled egg.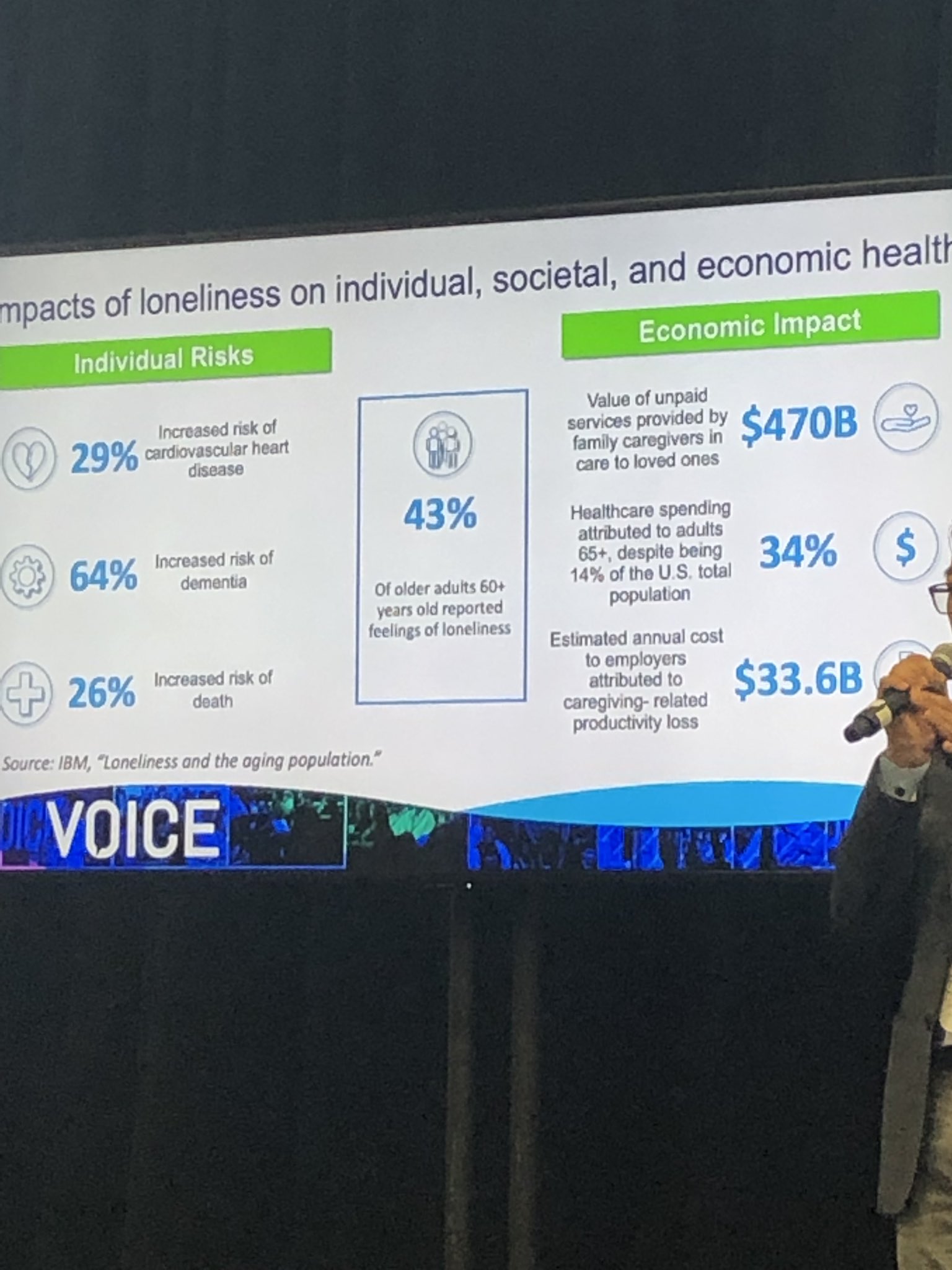 The slide pictured above from the session illustrates why I see so much potential for voice technology, specifically for older adults. It's becoming increasingly apparent through numerous research studies that loneliness and social isolation are severely detrimental to us as individuals, as well as to the broader economy.
The industry that I come from, the world of hearing aids and hearing loss, understands these co-morbidities all too well, as hearing loss is often correlated to social isolation. If your hearing is so diminished that you can no longer engage in social situations, you're more likely to become withdrawn and become social isolated/lonely. 
This is ultimately why I think we'll see voice assistants become integrated into this new generation of hearing aids. It kills two birds with one stone, as it augments one's physical sound environment by providing amplification and the ability to hear more clearly, as well as serve as an access point to a digital assistant that can be used to communicate with one's technology. One of the best solutions on the horizon for helping to circumvent the rising demand for caregivers might be "digital caregivers" in the form of Alexa/Google housed in hearing aids or other hearable devices.
-Thanks for Reading-
Dave
To listen to the broadcast on your Alexa device, enable the skill here
To add to you flash briefing, click here
To listen on your Google Assistant device, enable the skill here 
and then say, "Alexa/Ok Google, launch Future Ear Radio."