The New Carrier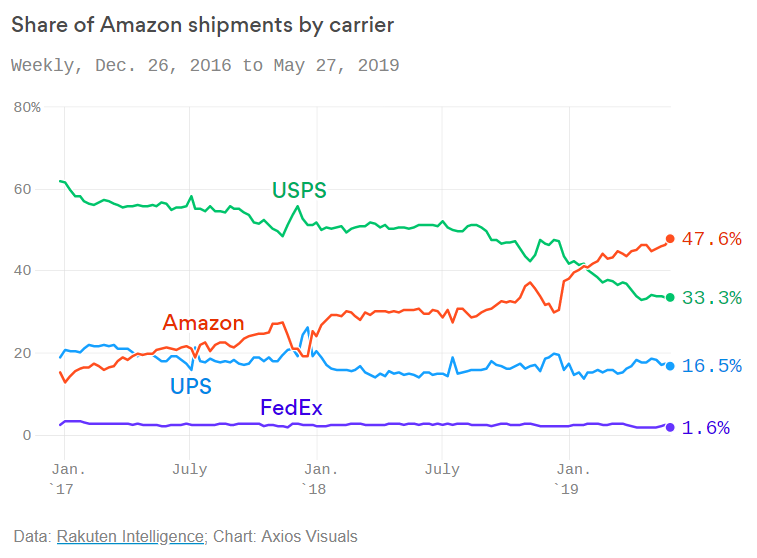 According to a new report from Rakuten Intelligence, Amazon now fulfills almost half of its orders. As you can see from the chart above, Amazon has steadily been grabbing more and more of its own shipment share across the last few years. There are some pretty significant implications here for UPS and Fedex, but also for the traditional retailers that compete against Amazon.
As Amazon increasingly fulfills more of its own shipments, it continues to gobble up portions of its supply chain. According to the report, "Amazon now employs more workers (648,000) than either FedEx (450,000), UPS (481,000) or USPS (497,000) – up from just 117,000 in 2013. And they've built the infrastructure, which is very hard to replicate: 390 warehouses, 50 planes, 300 truck power units and 20,000 delivery vans." The company already owns 40% of all e-commerce orders, and so some simple math would state that Amazon now fulfills 20% of the entire market.
Traditional retailers are going to need to strategically align themselves with partners to match Amazon's Prime offering. It starts with the way the order is placed. Amazon employs more than 10,000 employees strictly dedicated to Alexa. The most obvious way Amazon will monetize Alexa in the short term is to increasingly move people toward Alexa-based shopping. I would bet we see a report next year about a spike in Alexa-shopping after the Echo Show 5 has been in the market for a year.  Target, Best Buy, Walmart and other brick & mortar retailers will most likely need to look to Google Assistant or Bixby to provide the same, voice-assistant based shopping experience.
The other major aspect that traditional retailers need to focus on is to leverage some type of existing logistics system to match Amazon's move into one-day shopping. To me, the most obvious option would be to partner with gig-economy companies that already employ tons of drivers, such as Uber or Lyft. Brick & mortar retailers should realize that their biggest advantage is that their stores can be converted to mini fulfillment centers and pick up points for packages.
Amazon appears to want to own its entire supply chain, from the genesis of the product creation (Amazon Basics) all the way to handing the package to the customer.  As it continues to become Amazon vs. All in the e-commerce war, it will present an opportunity for incumbent retailers to align themselves with strategic partners that can provide the various elements that make Amazon's Prime so attractive. It should definitely open the door for Google Assistant (or Bixby) to serve as the smart assistant provider for all the voice commerce done outside of Alexa.
-Thanks for Reading-
Dave
To listen to the broadcast on your Alexa device, enable the skill here
To add to you flash briefing, click here
To listen on your Google Assistant device, enable the skill here 
and then say, "Alexa/Ok Google, launch Future Ear Radio."