Does Apple Know What It Has On Its Hands With AirPods?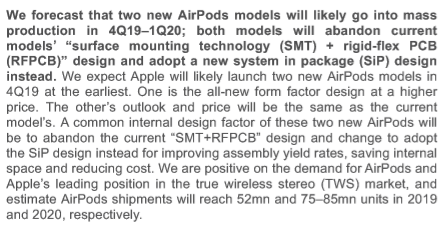 CNBC reported today that one of the most prominent Apple analysts, Ming-Chi Kuo of TF International Securities, is predicting two new versions of AirPods due for production in late 2019. TF International Securities is a financial services group based in the Taiwan, and what makes Kuo's insight so unique and valuable is because he has sources within all of the Asian suppliers within Apple's supply chain. So, the prediction of these new versions of AirPods are coming from contacts inside the supply chain that are privy to changes or updates to the components housed in the various Apple products.
Of the two new versions, Kuo believes that one of them will be an entirely new form-factor with a new internal design called "SiP," or systems-in-package, which will increase the processing power and battery life. As Brian Roemmele pointed out in the tweet below, Apple appears to be in the process of developing a true mini ear-computer, or hearable.
Which brings me to the question, "Does Apple fully realize what it has on its hands with AirPods?" I don't mean to ask this question facetiously – I'm serious. Although Apple doesn't break out unit sales for AirPods, Kuo estimates that Apple will sell 52 million AirPods in 2019 and ~75-85 million in 2020. Additionally, AirPods have a 98% consumer satisfaction score, so I think that it's fair to say those AirPods owners will upgrade into new versions, the same way many do with their iPhones. That's a foundation of 100+ million users that Apple should be able to move up its AirPods iteration ladder.
In other words, Apple could be siting on a massive host of Trojan horses smuggling in the next era of computing that it doesn't even need to convince users to adopt. While everyone initially adopted AirPods because of their truly wireless form factor and simplistic nature, the future for AirPods in my opinion is SiriOS. Apple's ecosystem of phone, wearables and services needs an interface that's conducive to all three, and mobile's touch, tap and swipe is not the answer. I'm not saying that Apple should forego iOS for SiriOS, I'm saying that Apple needs both.
With the incoming "Alexa-pods" and the advent of Galaxy Buds, it's becoming increasingly obvious that one of the new battlegrounds for smart assistants is the ear (I would image Google is revamping Pixel Buds). Apple has been largely successful with AirPods because there hasn't been much competition among its tech titan peers, but that's very quickly about the change.
The last thing that Apple needs is for AirPods owners, who own Alexa smart speakers, to look at "Alexa-pods" and think… "hmm those are cheaper, just as good in terms of quality/pairing/battery life, and Alexa blows Siri out of the water." This should be incentive enough for Apple to begin allocating its massive resources toward Siri to ensure that no piece of its ecosystem gets poached by a competitor.
It's times like today when I feel like maybe Apple is turning a corner on its approach toward voice and Siri. I find myself saying things like, "maybe there's finally someone at Apple, like John Giannandrea, who has convinced Tim Cook that Siri is critical to the company's future." To be certain, there have been moments across the past few years where I had this same line of thought, only to be let down by the lack of attention Siri is given. I continue to hold out hope that "Apple will Apple" and enter into the voice space in a meaningful way last, and evolving AirPods into a true hearable adds fuel to that fire for me.
That said, It's SiriOS or bust at this year's WWDC for me. While AirPods offer the best opportunity for Apple to succeed in a major way in the next epoch of computing, they're also one of the most susceptible pieces in the apple ecosystem to being supplanted. If Apple doesn't focus on Siri to ward off AirPods' competitors, starting with this year's WWDC and then with the introduction of a true SiriOS hearable, I'm not sure where Apple plans to succeed in a world that's rapidly moving toward ambient and voice-based computing.
-Thanks for Reading-
Dave