This week on the Future Ear Radio podcast, I'm joined by Alan Davis, CPO of Nuheara, and my hearables' right hand man, Andy Bellavia, Director of Market Development at Knowles Corp. Back in 2015, Nuheara was among the first companies to enter the hearables market with its IQ Buds, and although some its initial competitors have since either gone bankrupt or pivoted to new businesses, Nuheara has done the opposite. The company is coming off its strongest half year yet, and has not strayed from its initial core use case of hearing enhancement.
Alan has been at the helm of Nuheara's product division from the start, leading the team through three iterations of the flagship IQ Buds, as well as the build of companion accessories like the Nuheara TV streamer. It's easy to forget just how difficult some of the engineering challenges were (and still are!) five years ago in this space. Battery life and solid pairing in particular were a total nightmare, and proved too problematic for other companies looking to crack into the hearables industry.
So, we sat down with Alan to talk about those first few years and how the product team managed to build a successful hearable and solve many of the inherent challenges that these tiny devices present. In addition, we talk through each of the three versions of IQ Buds, what the team learned from each iteration, and some hints as to what to expect from Nuheara in the future.
Takeaways:
Nuheara's devices are self-fit and calibrated to the users' hearing profile through its companion smartphone app. What's most compelling of all is that Nuheara has licensed the National Acoustic Lab's NAL-NL2 prescription formula, which is the same formula most hearing aids are fit with.
As Alan mentions, Nuheara is not trying to compete with hearing aids, which typically are positioned for people with moderate-severe-profound levels of hearing loss. That's what hearing aids are for. Rather, the company is catering to the more mild-moderate end of the hearing loss spectrum. Speaking of this end of the spectrum…
As Andy and I discussed with Luke Pearce of Futuresource on episode 60, there's been a huge increase in consumer interest for "conversational enhancement features." Futuresources' survey cited 60% of participants indicating a desire for this type of feature; Qualcomm found that number to be 40% in its "State of Play" annual consumer hearable survey. There's tremendous demand building for products and features like what Nuheara is creating.
I found Alan's points around ANC to be really interesting. As he mentions, it was obvious from the start to him and his team that ANC would eventually become prevalent in the market – all of the building blocks were there to make it such. So, once again, the company, "skated to where the puck was going to be," correctly anticipating a feature that would increasingly grow in demand.
I think one of the most fundamental things to understand about the hearables market is the differences between digital signal processing (DSP) chips and application-specific integrated circuit (ASIC) chips. We touched on this during the conversation, but it's critical to understand the differences between the two and the innovation happening with DSP chips, in order to fully understand the product offerings that are powered by each.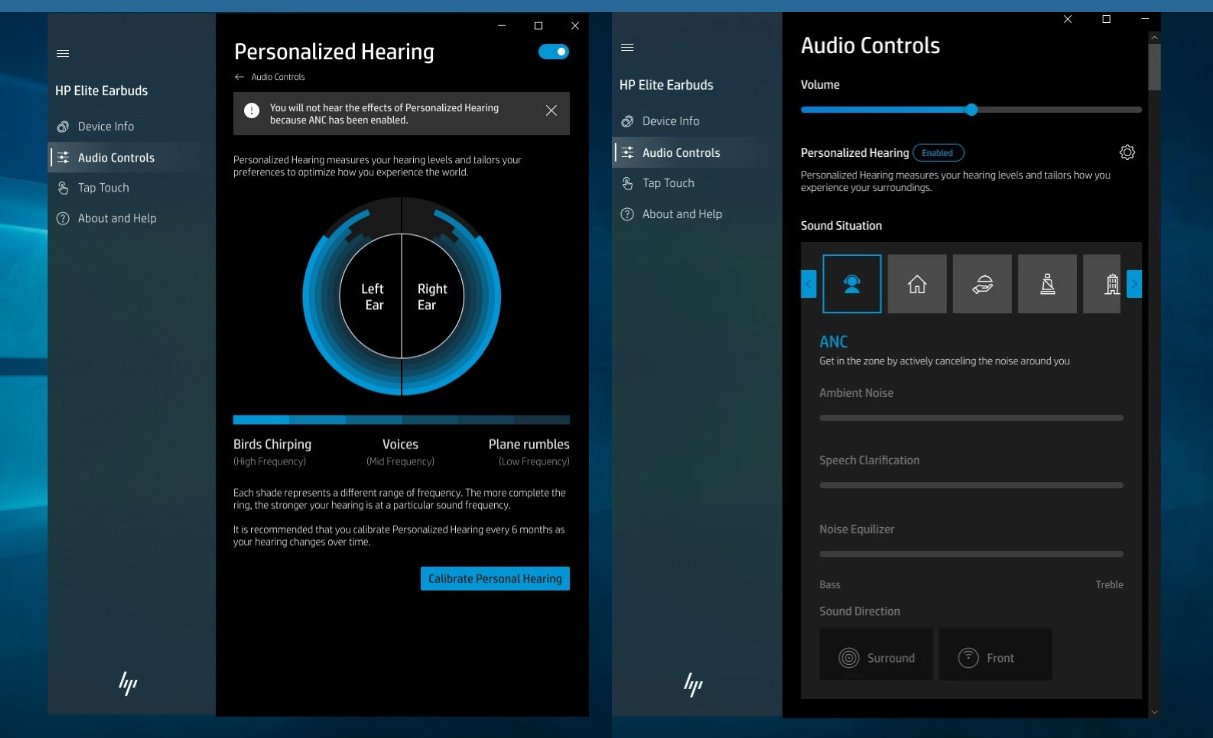 Alan couldn't disclose much about the HP partnership, but as Andy and I allude to in the conversation, the app interface of these co-developed earbuds just look slick. I think this is a really smart use case to hone in on too – dedicated earbuds with hearing augmentation built for all our Zoom calls and whatnot.
Australia is a major hub for hearing technology – Nuheara, Cochlear, the National Acoustic Lab, and some of the smartest, most forward-thinking hearing professionals I know. Must be something in the water down-under.
-Thanks for Reading-
Dave
EPISODE TRANSCRIPT
Dave Kemp:
Hi. I'm your host Dave Kemp, and this Future Ear Radio. Each episode, we're breaking down one new thing, one cool, new finding that's happening in the world of hearables, the world of voice technology. How are these worlds starting to intersect? How are these worlds starting to collide? What cool things are going to come from this intersection of technology? Without further ado, let's get on with the show.
Dave Kemp:
Okay. So we are joined here today by Alan Davis of Nuheara and Andy Bellavia. So why don't we go around real quick, introduce ourselves, tell us a little bit about who you are and what you do, starting with you, Andy?
Andy Bellavia:
Thanks again, Dave, for having me on the show another time. I'm responsible for marketing and business development for in-ear products for Knowles, actually everything that is not a regulated hearing aid. So I'm responsible for hearable devices, which is, of course, what we're going to talk about here, as well as communications, headsets, music earphones for professional musicians and audio files, and the like.
Andy Bellavia:
And I'm also a connected hearing aid user, so I'm getting a real good sense of what it's like to live the 24/7 mixed reality audio lifestyle, and that's got me thinking a lot about where all this is going from that ambient voice point of view.
Dave Kemp:
Love it. Alan?
Alan Davis:
Yeah. My name's Alan Davis. I'm the head of product development at Nuheara. So Nuheara is a hearables company. We're a bit different to the other hearables company. We focus on hearing hearables. So our products are very much about hearing technology. And we have a development team situated in Perth, Australia that build those products, and I lead that team.
Dave Kemp:
Fantastic. Well, thank you two very much for joining us today. Andy, great to have you back as always. Alan, thanks for joining the pod for the first time here. I think this is going to be a great conversation. Nuheara has been a company that's obviously been on my radar from the start. Ever since I started this blog, it was one of the great successes of what was happening in the hearables space.
Dave Kemp:
And so I've had a chance to get to know David Cannington over there. I know he's the podcast face of your company. Haven't heard you on a podcast before, though. And actually, when I reached out to David, he pointed me to you and he said, "You need to get Alan on, because Alan's really the brain behind the products that we've been releasing." And I just thought that this would make for a really great conversation.
Dave Kemp:
So wanted to bring Andy on as my resident hearables expert companion. I think that the two of us will help to steer the conversation. But really want to hear from you about … I know that you've been with Nuheara from the start. You've been there over five years now. I guess that's as long as you guys have been in business. And it's just, I think, such a cool success story, that you're small startup out of Perth, Australia, and when people think about hearables today, it's like obviously you think about Air Pods and you think of some of these gigantic trillion dollar companies and the offerings that they have. But you guys have actually been there from the start. You've been there before all of these other entrants.
Dave Kemp:
And like you said, you focus on hearing hearables. You focus on this hearing health type intersection between consumer tech and the world of amplification in the medical device side. And I think you've walked a really interesting tightrope between those two.
Dave Kemp:
So as we kick things off, excuse me, share a little bit about what the whole genesis of Nuheara was like. How did you even get connected with David and Justin? And then also share with us about that initial vision. What was it that you all saw that you felt that you had a different kind of approach that maybe was novel and unique to the market at the time?
Alan Davis:
Yeah. Thanks, Dave. Yeah. I have been involved with Justin and David since pretty much the start of the company. Justin and David used to work in another business that developed hearing protection devices, and I actually was involved with them at that company. And we worked to do very smart hearing protection to help people keep their hearing and not lose it.
Alan Davis:
So sometime after that, they approached me and said, "Hey, we're looking at doing something like this." So I said, "Yeah, that sounds amazing. Let's do that," and I joined in that way, the really beginning of the company. But David and Justin are really interesting guys. They're very dynamic. And Justin himself has some hearing loss, so they're very passionate about helping people and really passionate about trying to create things that can help people in their everyday lives and especially in the hearing space. So there's a really, really good history and background there.
Alan Davis:
I think what we realized early, in the early days of the company, was that there's a huge unaddressed group of people who could certainly benefit from hearing technologies, but they're not getting them. And in some ways, and this is going to sound really strange, but your traditional hearing aids are a bit discriminatory. They're really only purchased and bought by people who have really high levels of hearing loss. At least that's how it was five, six years ago. And so folks wouldn't buy hearing aids until they really reached a threshold that it was a must have. You had to do this, so for not getting help early that they needed.
Alan Davis:
And we looked at it and we thought, "Well, you know what? It's pretty obvious why." Firstly, they're expensive. Secondly, they're actually difficult to purchase. So if you want to go out and get a hearing aid today, I don't think any of you would be able to do that, right? There's actually a process to go through, and it's quite difficult to get hold of these devices. So there was a really low convenience factor and a really high cost and barrier to entry was really high.
Alan Davis:
The other thing about hearing aids is, at least at that time, they're really focused on just hearing, so single dimensional devices. And we wanted to write something for folks who have different levels of hearing loss, and we thought there was certainly something we could do there where we could build a product that had different complexions, so had things phone calls and music, right? So it had extra value points and also provided hearing assistance to those folks. And that's what we set out to do from the beginning.
Andy Bellavia:
Yeah. I'm going to jump in here, only because it's funny you talk about everything involved in people waiting too long for hearing aids and so on. It's actually when I tried the early Nuhearas and also the early Dopplers. I took them both into one of our favorite and insanely loud restaurants and gave them a try when I was with my family. And as I got them tuned up and working right, wow, this was really nice.
Andy Bellavia:
What I didn't quite acknowledge to myself at the time was that my hearing was sinking. And a few years later, it ended up getting to the point where I had to go get full hearing aids and to the point where I couldn't hear my spouse talking if her back was turned to me, that sort of thing. And I was probably halfway down that journey when I tried those devices.
Andy Bellavia:
And I always thought that if I had been on that path five years earlier, I would have been the poster child for a Nuheara user for exactly reason, in the years where a loud restaurant was murder, but in the quiet, I was okay. And so I think it's really spot on. That kind of use case is a way of getting people acclimated to hearing augmentation without riding that seven-year journey, which is often quoted and my case for sure.
Alan Davis:
Yeah. There's a real … Those things have been researched and those numbers are really well understood. But we really felt that hearing devices didn't offer value for people with lower levels of hearing issues, right? Just the value proposition isn't there for them. The price is too high, the convenience is too low, and so folks don't go for it.
Alan Davis:
And you can't underestimate convenience factor either. So in Australia, we have tap to pay now. So you can tap your card and pay, and people do that, right? So rather than just inserting your card, and that's just seconds of difference, but those little convenience factors take over and they provide … they really make a big difference.
Alan Davis:
And so the ability to set these devices up yourself and buy them yourself and they actually have extra value points is a really important part when you hear value proposition. You can't underestimate some of those things in the products.
Andy Bellavia:
Yeah, absolutely. And the other thing you mentioned is the accessibility issue. And it's interesting because I just listened to a podcast with Dr. Nick Reed of Johns Hopkins, and he dissects in detail all of the reasons why hearing aid users have piled up on the high income side of the spectrum. He talks about the price. He talks about all the steps involved in getting a hearing aid fitted and how that affects people who live far away from an audiologist, right? Income and racial disparities. He takes it all apart very nicely.
Andy Bellavia:
And what it says is there's a segment of the population well sowed by hearing aids, and I'm one of those. I'm past the hearable stage at this point. And having a true hearing aid and an audiologist to help keep them fitted properly is very valuable to me. But there is that whole segment of the population who either doesn't have access, doesn't have the income, or is in that mild to moderate category that's really underserved right now. And I would highly recommend that podcast if you want to … for any of the listeners who want to explore that avenue of hearing care.
Andy Bellavia:
But I really talk about these things as a way of setting the table for Nuheara's journey and how Nuheara got to where they are today and how you see Nuheara servicing the mild to moderate category in the future.
Alan Davis:
Yeah. And with the products, we started out very much a preset flavored product with some preset settings, and we launched that on Indiegogo. And I remember Justin and David saying it had to be wireless, because I was building it. We're like, "Well, that tech doesn't really exist at the moment. How are we going to do that?" But we found a way, and the NFMI technology was what we chose in the end. And that was the most viable option at that time.
Alan Davis:
But yeah, we set out and built our first product. And we launched an Indiegogo campaign, and that was really successful. I think it was a lot more successful than we thought it was going to be. And it really told us is we can reach that group of people and we can have a great solution for them. And the original IQbuds product was one of our most … really well-received by people.
Alan Davis:
I think that what we realized over time, and Andy, I'm sure you will have learnt these things out of your travels, especially in the music industry and things like that, the general public doesn't have a good audio vocabulary. They don't understand DBs. They don't understand frequencies. Things that might be obvious to some of us in the industry around ear tips and getting the right ear tips, people aren't good at self-selecting an ear tip, right? And it's not obvious how the ear tip you need to use is related to your body. It's not like a shirt size, right? So you might be a big person and need really tiny ear tips.
Alan Davis:
So that was some of the really early learnings on our product. And the ear tip and the way you seal the ear canal and deliver the sound can have such huge impact on the actual audio performance of the products. And that was some of the learnings we had from the very first IQbuds device. Yeah.
Dave Kemp:
Yeah. So question I have is, as you guys were setting out and you started to build, and obviously this first iteration, you were leaning on NMFI technology and that protocol. And I'm just curious, what was that development cycle like for you? What were the things that you realized, "Okay. If I'm going to have to have a product that is serving this use case for mild to moderate hearing loss, but I'm going to have it packaged in a wireless device that is going to be priced economically?" Clearly, you were given a whole number of constraints.
Dave Kemp:
And again, it's hard to even think that in five years time, how much we've progressed in a lot of the underlying technologies, which make things so much more feasible. Five years ago, I think you were really, really limited. And so I think that you were on the cutting edge with how you were able to create something based on all the parameters that you were given by Justin and David.
Dave Kemp:
Can you just speak to that first product that you all built with the IQbuds? What were some of the most challenging aspects of it? And what were some of the breakthroughs that you all had in terms of product development and how that maybe carried over into the future generations as well?
Alan Davis:
Yeah. I think they are incredibly difficult devices to design, and it's because they're so multidisciplinary and you have to be great at everything. So you need to be great at DSP, right, the signal processing in there. You need to be great at acoustics. You need to really understand anthropometrics in the ear, the human ear. You need to understand microelectronics. You need to be able to write software to run on this, so embedded firmware. You need to be able to write an app that people can use.
Alan Davis:
And you have to do all that well, simultaneously, and that makes them incredibly difficult products to design. And they're tiny as well, so they're extremely low power, power levels that were unthought about prior to that.
Alan Davis:
So those things all culminating make it so difficult. And the hearing aid industry has tackled that by doing their own chips, right? So they make their own ASICs. And they've got really good at that. They've got big teams that do those things, and they've got their own RP that they've built up around those platforms.
Alan Davis:
But there's a real maybe conversions, but there's a real inflection point happening that's driven by the mobile devices around the world, that's meaning that it's driving microelectronics and signal processing and these sort of things, even microphones, right down into the lowest levels of power usage. And they're becoming generic, so a small company like ours could access some of the top technology and actually build it into the products and build something that could be semi-competitive with other devices in a really short period of time.
Alan Davis:
So I think that what's happening in the wearable industry has just driven that and created this kind of space and the technology background that allows you to really build these products.
Andy Bellavia:
I always laugh when people say hardware is hard and makes people shy away from it, right? Well, of course hardware is hard. But if some didn't tackle the hardware issues, we'd all be pushing wheeled carts around, right?
Andy Bellavia:
So my question is what did you do differently where others failed? What did you do differently that allowed Nuheara to succeed where others failed?
Alan Davis:
Yeah. Nuheara's always been focused on hearing, and we've never pivoted from that. We've never strayed from it. We always knew that's what we were about and what we wanted to do. And so we've just had a very strong focus on hearing.
Alan Davis:
I think other folks you see … Some of the other hearables companies either just didn't execute or had pivoted through different ideas. But Nuheara's really always been very focused on delivering for hearing. And probably, it's just good timing for that as well, because there's changes in the hearing space and there's new technologies that are enabling that. And also, I think it's just that discipline around that focus that's helped us survive and thrive.
Dave Kemp:
So when you had the IQbuds, clearly you guys were successful with that, and then you moved on to the BOOST. And then today, we have the MAX. Can you walk us through how you guys got to the MAX and through the BOOST, and then where we're at today? Because I do think that this form factor today is pretty unbelievable. It's priced … I'm just amazed at the way … I think it's only $250 or something like that retail. And they're … We haven't even talked about the app yet, but again, another aspect to your offering that I think is just really, really fascinating.
Dave Kemp:
So can you walk through what that's been like as you guys have been iterating into these new products? And what are some of the things that you've all learned along the way as you've gotten all the way here to the MAX?
Alan Davis:
Yeah. I think the thing we've really learned is they're just about the customer. So in the early stages, our first product, the IQbuds product, was quite manual. So there's a lot of control for user. You could change the balance. You could set … You could use preset EQ curves, and you could change equalizers and things like that. It was a very manual process, and we learned that the customer really doesn't have a good vocabulary. They don't know how to choose a setting for their ears and how to get that right.
Alan Davis:
So we learnt that early and we started developing the product called BOOST pretty early on, which was going to take away that confusion from the user and make a process where we could actually evaluate how they hear and then self-adapt the product to their hearing. So it was a lot about usability and a lot about bringing in extra features and functionalities to drive the user experience.
Alan Davis:
So we worked really hard on that. We worked with a really great research organization in Australia called National Acoustics Labs, NAL, and we contacted them. And Australia's funny. It has a real rich hearing history actually.
Dave Kemp:
Yeah, it does.
Alan Davis:
Yeah. It does, right? There's a lot of great hearing companies that have come out of Australia. The cochlear implant was created here. And now, over in Sydney, they created the world's most prevalent fitting formula. So for those who don't know, once you measure someone's hearing, you need to translate that into settings for a device. And that fitting formula tells you how to do that. And there's two main fitting formulas in the world, but we obviously worked with the Australian invented one to do that.
Alan Davis:
So we built into that second generation of device, a hearing … We call it a hearing calibration, but a way to measure your hearing and adapt the device to your hearing. And we used the world's best fitting formula for that, which is now NL2, and we build that into our app and our earbuds. And no one in the world had ever done that. I don't even know if people thought about doing that. They might have. But we were very much the first to take that leap and build in what is really well renowned hearing technology.
Alan Davis:
And NL2 is amazing. It actually uses a neural network to do all that, believe it or not. So it's a real incredible technology piece that was created here. So yeah, it was very us driven. That evolution has been driven by the customer, and that's always our focus. And we work really hard on getting a lot of customer feedback, and we try and build that into our roadmap and build that into the products that we create for people.
Alan Davis:
So [crosstalk 00:21:08].
Dave Kemp:
I was going to just say I remember when I was at a trade show when the BOOST had just come out, and I remember I was in this little session room with David Cannington. And he's showing me the BOOST for the first time, and he was walking me through the hearing calibration. And he's telling me about how you all had collaborated with the National Acoustics Lab, which is really … Like you said, there's two formulas that most hearing aids are fit on, and this is the most prominent one in North America. So it was just shocking to me almost like, "Wow, this is incredible that you have this device that is infused more or less with this formula. And the calibration test, it's really legit. And after you're done, it calibrates those earbuds for you."
Dave Kemp:
And for me, that was a jarring moment, where it was the realization that these new aged devices that are very much consumer tech oriented, that have a focus on the medical side were really materializing in the market and were legitimate. And I thought that the industry, the hearing health industry needed to be aware that these types of offerings were now starting to make their way into the market and that they were really positive, in my opinion.
Dave Kemp:
I think that as you mentioned at the beginning of the conversation, this treating that end of the spectrum, right, if it's a spectrum of hearing loss that goes from mild to profound and severe, I think that you're probably pretty right, that it's pretty heavily slanted toward the right end of the spectrum, the more severe side.
Dave Kemp:
And to Andy's point, you've had years of years of people that are just neglecting to do anything about it because they feel as if they're not warranting the level of … whether it's the different things that you have to do in order to get it from an accessibility standpoint and the high price point that has commonly been associated with hearing solutions.
Dave Kemp:
So I think that when I saw that, that was the big a-ha moment for me. I remember it very clearly and thinking to myself that this is the dawn of a new day. And I still think it's a very, very positive development. I think we need more companies that are really trying to tackle that end of the spectrum so that you get more people to be treating this earlier, so that you don't have people like Andy that neglected it and then they waited and it just was a gradual deterioration, when maybe he could have preserved better levels of his hearing for longer.
Alan Davis:
And we never built these devices to be competitors to hearing aids. We have people write to us all the time saying that, "I use this more than my hearing aid" and stuff like this, right? But that wasn't the intentions. The products were always to support the hearing industry, right, and to bring folks into hearing devices at a much earlier level. And really, hearing aids were never going to do that. But no one was really trying to build something for those folks, so that's really what we set to do.
Alan Davis:
And we've had great feedback on them.
Andy Bellavia:
Yeah. And Justin, when he did his webinar with DNA Ella a couple of months ago, he said explicitly he thought devices like this would increase hearing aid sales. And I tend to agree with him. People are walking around with hearable devices in their ears for longer periods of time and using increasing functionality, including voice assistant use and more audio consumption.
Andy Bellavia:
And so my feeling is, as people to start to wear these devices in their ears more often, dialing in some hearing augmentation is just a natural step. And of course, you start down on your hearing journey sooner.
Andy Bellavia:
Now, question I have for you is in present day, your device included, you're more or less providing hearing aid-like functionality by running a hearing test and then applying the NAL NL2 fitting algorithm. On the horizon, we see things coming more related to ML speech extraction for noise. Facebook Labs talked about doing that. Then, I think that they were running it on a headset. It's Whisper who has the separate Brain Box doing it, and Chatable's running an IOS app to get that done.
Andy Bellavia:
Do you see that as having a future in this era of mild to moderate hearing loss, and how do you see different technologies for helping people understand speech and noise? Which ones will be successful in the years going ahead?
Alan Davis:
Yeah, fascinating question. So I can certainly speculate. We might be seeing the last of the traditional signal processing engineers being trained now. We might be seeing that it might all become machine learning-based in the future. But there's probably power challenges there today, so its probably not quite ready for prime time. But it might be in five years. I don't know.
Alan Davis:
I've always thought that the human brain is a pretty amazing network, right? So how can you do things better than the brain? So hearing aids try to address a mechanical issue, or otherwise a nervous issue or whatever with the brain. So it helps to provide extra sound levels when your ear isn't picking up sound like it used to.
Alan Davis:
But overall, a bit sketchy that you could design a neural network that could do better than the brain unless you had extra microphones. So if you have those extra microphones, you might be able to do things that the brain can't really do, and that can really bring forward things like understanding speech and noise and stuff like that.
Alan Davis:
But the other powerful thing about machine learning models is they can create information that wasn't there based on whatever it was trained on. So you've seen … you ought have seen these type of demos where people are showing a black and white film, and then they colorize it, right? So it's created information that isn't there. It looks fine to the brain. You look at it and it looks okay and you accept it. And I think you might see those sort of things start happening in audio as well, where you can just actually extract and create information and you can hear it and understand it based on those models.
Alan Davis:
So I think there's a big future in ML in hearing devices. Yeah, it's going to be really exciting times in the future.
Dave Kemp:
Yeah, and that's absolutely fascinating to think about, and I agree with you. So going back to the whole notion of the chip sets, right? So you mentioned that you have … Hearing aids by and large are using these ASIC chips, and then your product uses DSP chips. And I know that you have a really strong background. This is what you got your doctoral in, was digital signal processing.
Dave Kemp:
So this has been something that I've tried to better understand myself and I think the listeners would really benefit from. So can you walk us through some of the core differences between these types of chips and then what maybe some of the limitations are traditionally with digital signal processing chips versus the ASICs, but also what some of the opportunities that they also provide as they mature as a technology themselves?
Alan Davis:
Yeah. I think there's a trade-off there, and they're always using their hardware [inaudible 00:29:14] where you can trade off hardware for software and flexibility. So those digital signal processing chips are highly configurable and highly programmable. You can make them do all sorts of different things, and you can really configure them in software. Whereas ASICs are a little bit more fixed. So they're going to do things like your filter banks and some processing in hardware instead of in software. And that limits you, more just changing parameters, than it does to actually writing different algorithms and being creative with those things.
Alan Davis:
So that's how I always understand and think about the differences between the space. But over time, those DSPs, those programmable ones, the general purpose ones have really come down in their power usage requirements. I remember when I started out, I was programming Texas Instruments C55 DSPs, which are really popular audio DSP from a long time ago. But the power requirements nowadays are so much lower.
Alan Davis:
And again, that's been driven by the mobile phone industry, people putting big DSPs in there to audio pick up for phone call processing and things like that. That's really happened over the last 10 years, that those things have come about and accessible so that companies can use them.
Alan Davis:
But we think DSPs are going to be the right that's going to win in the long term, having those programmable devices, just because the upfront development cost of the ASIC is so high. And then you've got … You definitely get rid of some of the flexibility with those devices.
Andy Bellavia:
Yeah. It's funny because we have a ground level view of the advancement in DSP technology. I think back a few years ago. We would talk to hearables companies and say, "All hearing aids use our balanced armatures because they consume so low power, and that's why it really increases the life of a hearing aid."
Andy Bellavia:
And people would tell us, "Well, the DSP is consuming so much. What a speaker's doing matters not at all." But in a modern DSP, we're actually seeing it. We've had at least one company explicitly tell a life difference between a unit using our balanced armature unit, using an ordinary speaker, which really points to the fact that the DSP power is going down and down and down, because the speaker powers are relatively constant, but the DSP power's going, going down and down. And so then you see other things taking effect.
Andy Bellavia:
Now, the question I have for you is you can see the day coming when the DSPs will run with all the processing power you need and will last at least 16 hours. How is that going to affect the hearing health industry in general, where today a hearing aid relies on a very customized ASIC to give the battery life in a discreet and comfortable size? But what happens when an ASIC is no longer required? How will that not only drive the hearable industry, but how will that drive the hearing aid industry in your opinion?
Alan Davis:
It's just going to open to massive innovation and just reduce barriers to entry in that industry. Today, if you want to go into the hearing aid industry, you need to pick up a hearing aid chip set just for the battery life, because you need to … Battery life is really important to people.
Alan Davis:
And the other thing about a hearing aid is it's an all-day wear product. I don't know if people really understand that. But hearing aids are designed to be worn all day, whereas products like ours are designed to be worn just situationally, just wear them sometimes. So hearing aids have really tight … They need to last, like you say, 16 hours and they need to be running all that time and doing great stuff with the processing that full 16 hours.
Alan Davis:
So I think it's going to really level the playing field, and maybe that's one of the big advantages that the hearing aid companies have. They obviously have their channel and their experience and fitting software and all sorts of things like that as well behind. But in terms of the device, once you hit that 16 … you can hit that 16-hour life with programmable DSPs, and I don't think that day is far away. Then, it's going to really open up the market for other people to bring devices out. That's how I see it.
Dave Kemp:
Yeah. That's really fascinating to think about. To think of, like you said, if it's not that far away, that's always been one of the big counterarguments is like, "Well, these things, they only can last for five hours or six hours." And then you had all the different companion charging cases that came about. So you just pop it in there, you get a quick charge, and so it circumvented that a little bit.
Dave Kemp:
But now that we're graduating into these levels where the DSPs are, I guess, power savvy enough and able to preserve its battery life so that it can last upwards of 12 to 15 hours, and that to me is where things are getting really, really interesting. These are conversations that Andy and I have had a bunch of times on the podcast, is this whole notion is just shattering before our eyes, where you can get a low cost device that performs really well, that is suitable for upwards of a moderate hearing loss, and it can last for 15 hours a day.
Dave Kemp:
All three of those things, I think, were the preconceived notions that existed of this will never work, because you have to solve these three big things, along with it being comfortable, it being cosmetically appealing. And I just think that you all have done that.
Dave Kemp:
So why don't we talk a little bit about your current generation device, the MAX? What did you learn from the BOOST to the MAX? What are the big things that stand out in your mind with the MAX, and where does this thing go from there, without giving any detail into your product roadmap? Clearly, you've now done three iterations of products, and I think each one's been a pretty big leap forward in terms of what's changed from the previous generation.
Dave Kemp:
And so I'm just curious to hear from you what has transpired between two and three, and then what things are looking like in your mind right now with at least what would be the goal with future generation devices.
Alan Davis:
Yeah. So we have a really passionate team. They work really hard on these devices. The hours that the team puts in is really crazy. But they're just very dedicated people who are just genuinely interested in doing this sort of thing.
Alan Davis:
So the thing we realized early was that, and this was even during when we were designing IQbuds, we realized that ANC was going to become our prevalent and standard. And the reason why that was going to happen is because hearable devices had batteries and microphones and speakers already. So in the past, headsets have a speaker and they might have a microphone, but they didn't have a battery, they didn't have any power, and the 3.5 millimeter jack just couldn't power anything. And that meant if you wanted to do anything with ANC, you had to add a battery and you had to add electronics and you had to add extra microphones on the earbud. And that meant the cost was going to go up so much.
Alan Davis:
But what we noticed early was that, okay, hearables have all that. You need it anyway. So ANC is going to become very much standard in these products and a must have. It's going to become a hygiene factor. So we started working on that really early. And at that time, no one had done an ANC earbud. No one had even … No one had built that before.
Alan Davis:
So we started working on the acoustics for that. That was a very difficult problem to solve, and we learnt a lot about how to design those things. And we had to make quite radical acoustical design changes. So we moved from a balanced armature to a large dynamic driver. We had to vent the earbuds and try and produce a really consistent transfer function through the ear. We had to build in a lot of ANC circuitry as well. So that was one of the big upgrades that we worked on from BOOST to MAX.
Alan Davis:
And ANC is a really magic technology for hearables because not only does it provide a great feature in reducing noise and we've never asked anyone, "Do you want more noise in your life?," and no one's ever answered yes to that, right? So that was something that was really important. Just reducing background noise really played into what the customer wanted.
Alan Davis:
But ANC also, especially feedback ANC, has a really nice property that it reduces occlusion. And our products have always been talking and listening products. So a lot of hearables are listening, right? They're 95% listening. But our products are talking and listening, and occlusion really affects the user experience when you do talk. So we worked really hard on that ANC technology and put that into the product, and I think the product really shines from having that ANC built in there. It's a nice experience and we get great feedback on that all the time.
Alan Davis:
And the other thing the company worked on was a TV accessory. So we don't talk about that a lot, but a lot of people with hearing issues in the home find it difficult to watch TV. And believe it or not, TV is a social activity. And you may not realize that, but most TV watching is done with more than one person. It's done with others and it's very much social.
Alan Davis:
But if you have a hearing challenge, it can really ruin the enjoyment of TV for you. And TV's a huge pastime in America and all over the world. So we built a TV accessory for our products as well. And we put a lot of energy into that. A lot of people maybe just don't put so much into accessories, but we put a lot of work into that one and allowed you to connect and have your own personal volume control to hear the TV in a consumer product. And that was something folks really hadn't done before, not in the way we did it. And it also fixed up the pairing experience. So Bluetooth is really hard to pair and connect and switch between devices. So we worked really hard on making that extremely seamless.
Alan Davis:
So they were the things we worked on in the next product generations, and it really was designed to tackle other types of hearing and provide solutions for different people with different types of hearing situations. And that's how we see some things in the future as well.
Andy Bellavia:
Yeah. I have to say, in listening to everything you described, one thing really jumped out at me, and that is how well Nuheara anticipated trends that would become popular. If you look at the latest QualComm State of Play report and Future Source's latest hearables report, both we talked about in a podcast just released with Dave and I, you see in those last two reports hearing enhancement being a real popular ask going forward. State of Play had 40% of people wanting hearing enhancement, and the Future Source report had 60% of people wanting hearing enhancement, which is something that you obviously anticipated by some years.
Andy Bellavia:
And the same thing's true of ANC. Now, they both call out ANC as being rising stars in the hearable world right now. And you had ANC a couple years ago, too. And there's another aspect about ANC, which I think fits really well with the Nuheara value proposition, and that is when you listen in a noisy environment with ANC, you'll actually turn the music level down. I've read two studies, and they're actually some years old, but they're still valid, that people will listen to music at about 13 DB above the noise level. So if you're on the Metro, for example, and you want to drown out the sound of the train, you will crank the volume up. But if you have ANC running, you'll listen at much lower and safer levels.
Andy Bellavia:
It turns the whole listening with earbuds proposition on its head, because how many parents tell their kids, "You're going to ruin your ears listening with your earbuds all the time?" Well, if you arm your child or someone else with a noise canceling earbud, chances are they're going to listen at safer levels and actually preserve their hearing more than damage it. So really, from that point of view, the increase in popularity of ANC, which is obviously something you anticipated as well.
Alan Davis:
You're right about that. And some people market ANC as being immersive, right? So they talk about immersive sound. But you're absolutely right. It's that masking effect of the human auditory system. So people will turn things up louder until they can hear it clearly, which means, if you have an open hearing device, you're going to make sounds very loud so you can hear it how you want to. So you're absolutely right. It's a huge aspect of ANC, just providing the ability to hear all the detailing of sound at a much lower level.
Alan Davis:
And ANC as well, I'm just amazed it's never really become prevalent in hearing devices. We'd be one of the first hearing devices with ANC and hearing built in. And it just seems like such a perfect fit, because the first place people have challenges with hearing is in noise, right? So this is where people always first start to notice they have hearing challenges, is when it's noisy, right? So it becomes more difficult to hear then.
Alan Davis:
And why people haven't connected that until now with ANC and bringing ANC technologies in with your hearing technologies, I think, is a bit of a miss. But it's definitely something … yeah, something that is really a marriage made in heaven, noise canceling and hearing enhancement. They go together.
Dave Kemp:
Yeah. No. This is actually really interesting, because one of the holy grails has always been speech and noise, better speech and noise, understanding that. That's always been, I think, probably one of the most heavily cited pain points that still exist that's traditionally been a big pain point for all kinds of different people that have been using some type of hearing solution.
Dave Kemp:
And so I'm curious. Again, I don't want you to have to spill the beans on what the product roadmap, but what exists today that can be … I never really considered ANC until you just were saying that. That actually makes a lot of sense to me. Are there other tools at our disposable here in 2021 that now maybe exist in wide prevalence or they've just matured as a technology to become more feasible? How ultimately do you think we're going to solve speech and noise [crosstalk 00:45:02] speaking? Or what ways can we treat speech and noise that we hadn't been able to previously, that have only recently become enabled?
Alan Davis:
I'm hoping there's just going to become a lot more acceptance of wearing devices and wearing devices that are real visible like our types of products in noisy environments and in social situations and with people around you. And you see that a lot on your commute. So we have a really big public transport system here, and a lot of people wear devices on their ears when they're commuting. But we really want that to become acceptable when you're conversing and communicating as well, so that there's something we can use those technologies in them to really boost people's hearing capabilities.
Andy Bellavia:
You mentioned the commute, and that made me think of something related to Bluetooth 5.2, which essentially is going to the Bluetooth telecoil capability, hearing devices like Nuheara's. What do you see are the popular use cases for the broadcast capability of Bluetooth 5.2, especially in hearing environment, but generally? How do you see that playing out? How do you see people actually using it in practice?
Alan Davis:
That's a really fascinating question. And these things like telecoils have been around for a while, but not really deploying to consumer applications, only as a hearing assistance application. I think you're going to find that it may get installed in a lot of places as a replacement for the telecoil. So your tele machine and these sort of things might have these in them. And on a train, you might have these Bluetooth 5.2 that covers the BLE audio, that covers the whole carriage, and you can tune into the conductor or whatever the next station is.
Alan Davis:
So I think those type of audio announcements might be something that get projected to you, into your device, where that doesn't happen today. Whether that's a good or a bad thing, maybe good, maybe can be misused as well. So how well that actually gets adopted and deployed will be a question, and I'd expect it to be at least a 10-year adoption profile for that. We're expecting that Bluetooth Classic is going to stay the dominant technology for quite a while. Although, we think LE will get adopted, but there's just such an install base of Bluetooth Classic, that will take a while before you have LE really taking over. Yeah.
Alan Davis:
So yeah, we're really excited about the broadcast use case, of LE audio. There's also sharing use cases and things like that. But I think broadcast might be the one you find that's most popular and maybe the most impact to your day-to-day life. Yeah.
Dave Kemp:
Totally. Well, as we wrap up here, let's just quickly go around. Alan, why don't you share with us not only where we can learn more about Nuheara and all that, but what should we be on the lookout here in 2021? It's only February, so I'm curious. Again, I don't want you to have to share anything that's on the roadmap or anything that you can't share quite yet. I know that you just had the collaboration with HP. I saw some images of that. Really, really cool. I'm blown away honestly that this particular device …
Dave Kemp:
And I just think it's such a cool use case, too, of it being really tailored about using it with their HP laptops and syncing in with … in a day and age where there's just so many Zoom calls and all kinds of different interfacing with your computer, it just seems to make sense that you have a dedicated pair of earbuds for that. And it's cool to see you technology with the hearing enhancement in there and the way that it all looks.
Dave Kemp:
So I'll be sure to link that in the show notes. But let's just quickly go around. Alan, what is 2021 going to look like from Nuheara, and then where can we go to learn more about everything that's Nuheara related right now?
Alan Davis:
Yeah. I think the best place is the website. We've got a really great website there that showcases the products, but also showcases a lot of our customers. And you can really learn from our customers on the website and what they say and the way they've used our products. Some of the ways people have used the devices has just really blown us away, and people have found them useful for all sorts of different things.
Alan Davis:
So you'll see some really amazing testimonials and that sort of thing on the website. So that's what to look out for.
Alan Davis:
And we've always had a strong history of innovation in the company, and I think you can look to see that continue. I'd say we're stronger than ever in that area. And I think we've always tried to upgrade our products with new software and new software layers. Our app is so integral to the whole product offering that I think you can look to a lot of great improvements for those who have already bought our products down the line. So they're going to see some really nice updates and that sort of thing this year.
Dave Kemp:
Awesome. And Andy, any closing thoughts from you?
Andy Bellavia:
Yeah. It really struck me over the course of this conversation how very similar our two companies are. Knowles is seven years older than Nuheara, but our founder Hugh Knowles started a company on the basis of putting better hearing correction in more people's ears. He always wanted hearing assistance and hearing correction to be broadly based with nobody left behind. And that's exactly what Nuheara is trying to do.
Andy Bellavia:
And so even for a long time, I gained an appreciation years before I got hearing aids myself, working in the environment of Knowles gave me an appreciation for what it means to have hearing loss and what it means to have uncorrected hearing loss and the importance of continued innovation in that space.
Andy Bellavia:
And so we're really traveling in the same circles, because to me, anything that gets hearing enhancement and improves the lifestyle of more people, regardless of background or economic status or hearing loss level is very good thing, and so I really … My hat gets tipped to Nuheara for being successful and carrying that forward and making hearing correction available to more people.
Dave Kemp:
Yeah, absolutely. For me, I would just say that I think it's really fascinating that you guys have lasted as long as you have. And not only that, but like you said, you're as strong as you've ever been. I love a good success story. I love that you all were able to find solid product market fit, and not only that, but also I think introduce new concepts to this market, to the hearing health market and say that there are different approaches that can be taken using different types of technology.
Dave Kemp:
And just attacking it from a different standpoint, I think, is actually really refreshing. So I'm cheering for you all. I think that it's an interesting product that you've been developing and that each iteration just keeps getting cooler and cooler. And I'm excited to see what comes next.
Dave Kemp:
And I think that the future's bright for this particular facet of the market where it is attacking the people that are like Andy, Andy from four years before he got his hearing aids, when he recognized, "Okay, I probably need something," but he never really took the steps in order to do anything. And part of that might have just been that there wasn't a whole lot that was available to him that was suitable for that time.
Dave Kemp:
And I think that the more options that we provide people and the easier that they are to access and they're more affordable, I think that ultimately it's going to grow the market. I think you can look to other industries like prescription lenses and cheaters, and not to disparage your product or anything like that, but it fits on that same side of the market for this, where it is something where it can be that entry point, it can be that first thing that people buy that gets them in the door, that gets them thinking about this.
Dave Kemp:
And that's been a big focus on this podcast, thinking through what are the changes of today and what's the next few years going to look like as the space continues to evolve. So I really, really enjoyed this conversation.
Dave Kemp:
Thank you so much, Andy, for joining us again to lend your wisdom and your insight. You asked some great questions today. And Alan, obviously thank you so much. Really learned a lot from you. I think this has been an awesome conversation and awesome discussion.
Dave Kemp:
Thanks to everybody who tuned who tuned in here to the end, and we will chat with you next time. Cheers.
Dave Kemp:
Thanks for tuning in today. I hope you enjoyed this episode of Future Ear Radio. For more content like this, just head over to FutureEar.co, where you can read all the articles that I've been writing these past few years from the worlds of voice technology and hearables and how the two are beginning to intersect. Thanks for tuning in, and I'll chat with you next time.