Yesterday, Google revealed an overhauled, version 2 of Pixel Buds at its Pixel event. The new Pixel Buds are small, circle-shaped, truly wireless earbuds with silicon tips designed with a fin-like extension to help secure the buds into the ear and help seal out sound. While there will be some occlusion from the outside sound, these Pixel Buds will have a spacial vent to provide a small amount of outside sound to prevent users feeling fully occluded. Pixel Buds 2.0 are due out in the Spring of 2020.
Customers will have the option to choose from four colors – white, black, mint-green, and orange. Pixel Buds 2.0 will also come with a companion charging-case, similar to AirPods. They'll hold a 5 hour battery charge for continuous use, with an additional 24 hours in the charging-case. Google has also said that the new version of Pixel Buds will be sweat and water resistant, although has not elaborated on the water-resistance rating.
Google first unveiled Pixel Buds two years ago at the 2017 Pixel event, which represented the first challenger to Apple's AirPods among the major tech companies. The original Pixel Buds weren't truly wireless, as the two earbuds were tethered together by a cloth cord, which made it awkward to stow the device. Along with allowing for a tap to access Google Assistant, the other notable feature touted by Google was live-language translation supported by Google Translate.
In hindsight, Google's first attempt at a hearable wasn't really much of a formidable foe for Apple. AirPods debuted in December 2016, and with an 11 month lead, AirPods controlled 85% of the wireless headphone market by the time Pixel Buds became available in November 2017. Other hearable manufacturers were able to gradually eat into Apple's share, but Google was not one of them. Pixel Buds 1.0 were borderline dead-on-arrival.
A lot has changed since the debut of the original Pixel Buds. For starters, the hearables market has exploded in growth. That growth is accelerating as indicated by the year-over-year growth statistics featured in the IDC chart above, with the total market growing 250% year-over-year. In the second quarter, units shipped exceeded 30 million, raising the new annual forecast total to well above 120 million units, with Apple forecasting to sell upwards of 60+ pairs of Beats and AirPods. My guess is that these numbers continue to climb rapidly as network effects are only beginning to kick in.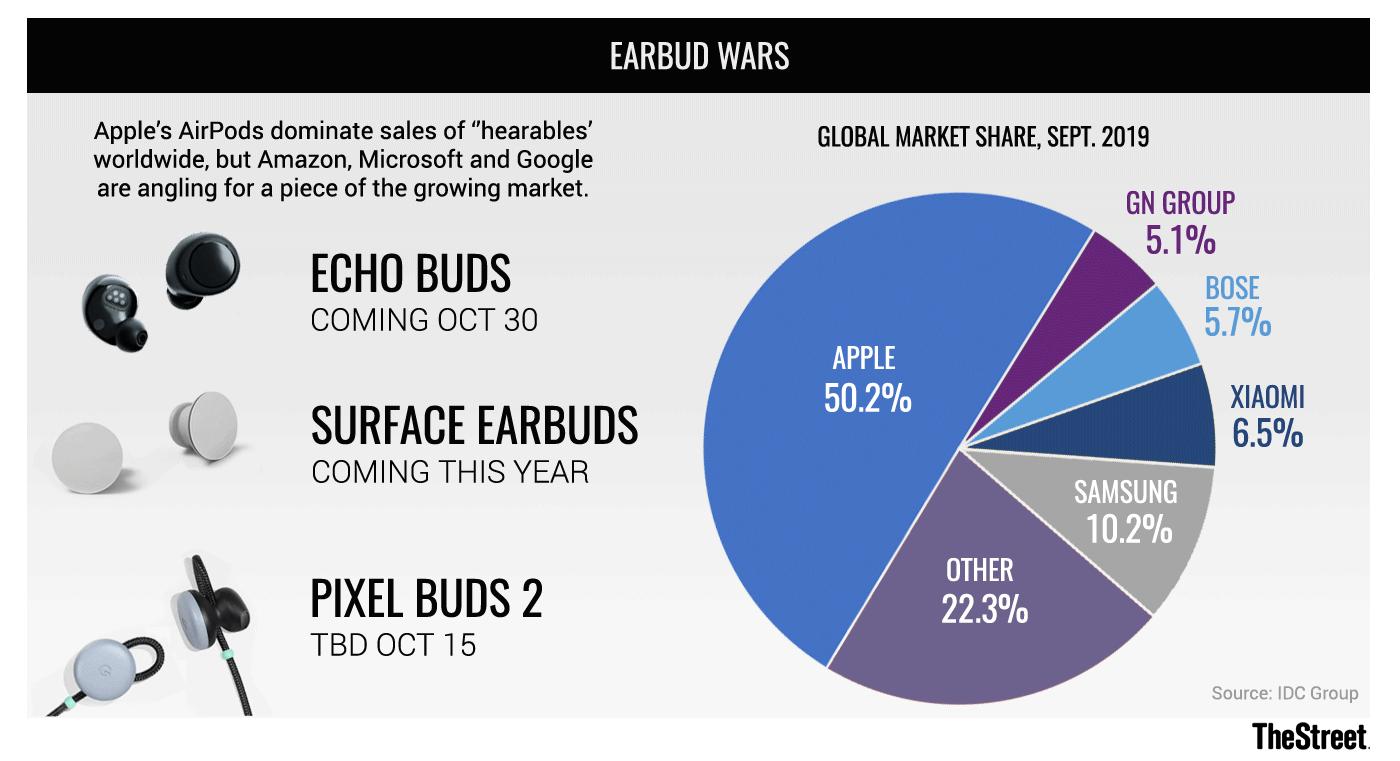 Given the meteoric rise of the hearables market, it shouldn't be much of a surprise that Amazon, Microsoft and Google are joining (Google, re-joining) Apple and Samsung in the hearables arena. While the market might be big and swelling, it's also due to become increasingly cut-throat as the market fills up with more and more offerings. So, how exactly will Pixel Buds look to stand apart?
The most obvious answer to this is Google Assistant, which is arguably the most intelligent and capable voice assistant on the market today. I recently wrote a post pondering which of these new hearables will ultimately become the "Android-ecosystem AirPods" and there's a case to be made that Pixel Buds' path to becoming an AirPods-like hit for the Android ecosystem, runs squarely through Google's ability to articulate the increasing value of having its voice assistant reside in Google's own hearable.
Pixel Buds will cost $179, not ship until 2020, and no mention of active noise reduction. Significant shortcomings compared to new Amazon Echo Buds on all three points. #madebygoogle pic.twitter.com/m5E69DZR8b

— Bret Kinsella in Dublin for @ConverConHQ (@bretkinsella) October 15, 2019
There are parts of this announcement that are a tad bit concerning, however. As Bret Kinsella pointed out, waiting until spring of 2020 might be a mistake. The reason being is that the 2019 holiday season is incredibly important for the new entrants in the hearables space to gain initial market share and momentum as the hearables' market begins to become crowded. As Nick Hunn mentioned in his recent piece, these new entrants are not likely to poach from Apple as the consumer satisfaction rates of AirPods is too high, and therefore will likely be incremental sales, largely catering to the Android market.
By foregoing this year's holiday season, Google is essentially ceding the early market to Amazon's Echo Buds due out later this month (along with Microsoft, Samsung and other hearables manufacturers too). Given that Amazon is Google closest VoiceFirst competitor, this seems like a poor decision, especially as Google owns such a dominant position on the on-the-go voice assistant market through its Android handset ecosystem. This might ultimately open the door for Amazon to gain the Alexa foothold it so desperately needs outside of the home, via Echo Buds targeting Android users.
In the end, the initial period might not matter much if Google is able to continue to improve its ability to manufacturer high-quality hardware, and increase the distance between Google Assistant and other voice assistants. With Google revamping Pixel Buds into something that looks much more desirable than its predecessor, the table is set for a very interesting next decade as the hearables arena becomes an innovation breeding ground.
-Thanks for Reading-
Dave
To listen to the broadcast on your Alexa device, enable the skill here
To add to your flash briefing, click here
To listen on your Google Assistant device, enable the skill here 
and then say, "Alexa/Ok Google, launch Future Ear Radio."