The bomb finally dropped yesterday: Amazon has thrown down the gauntlet and entered into the hearables arena with Echo Buds. Announced at the end of yesterday's Amazon product event, Amazon's first foray into the hearables space represents the most important development in the world of hearables, since the launch of AirPods in December, 2016. For today's update, I'm breaking down the three most important aspects to Echo Buds.
1. Alexa's New Home: The Ear
It's been apparent for some time that Amazon's goal has been to eventually move Alexa out of the home and into more settings (car, office, classroom, hotel, hospital, etc.) to the point where Alexa access is ambient and ubiquitous. There have been in-the-ear devices on the market with Alexa integration (via AMAK) for years now, however, it's a bit of a different story when the device is one of Amazon's own.
I'll bookmark this tweet, but I think one of the biggest byproducts that will come from Echo Buds (assuming that they're a hit, which I think they will be) is a major increase in flash briefing usage.

"Alexa play news" through your Echo Buds is pretty compelling.

— Dave Kemp (@Oaktree_Dave) September 25, 2019
Amazon now has a vested interest to help facilitate developers' needs for creating on-the-go Alexa skills, in addition to helping guide users toward features, functionality and potentially even third party skills that enhance Echo Buds's value proposition. For example, Amazon could guide users through curating a flash briefing during the on-boarding of their Echo Buds.
2. The Catalyst for Apple to get "Sirious?"
Apple currently owns the ear. IDC reported earlier this year that hearables now comprise 50% of all wearable sales, and Apple's AirPods and Beats comprise half of those hearable sales. So, 25% of all wearables sales today are made up of Apple's hearables. As I have written about on Voicebot, the whole Apple growth narrative right now is based around Apple's services and wearables. If Apple were to start to lose its strategic stronghold on the ear, the whole narrative would start to fall apart. Wall St. would not like that.
It was brilliant of Amazon to partner with Bose for premium top quality noise reduction.

It was also brilliant to bring in-ear monitor quality to the mass market with two drivers.

This is the start to HiRes audio and pairs well with Amazon Music HD. https://t.co/ZuVGwH21q7 pic.twitter.com/0YxsJh4KA8

— Brian Roemmele (@BrianRoemmele) September 25, 2019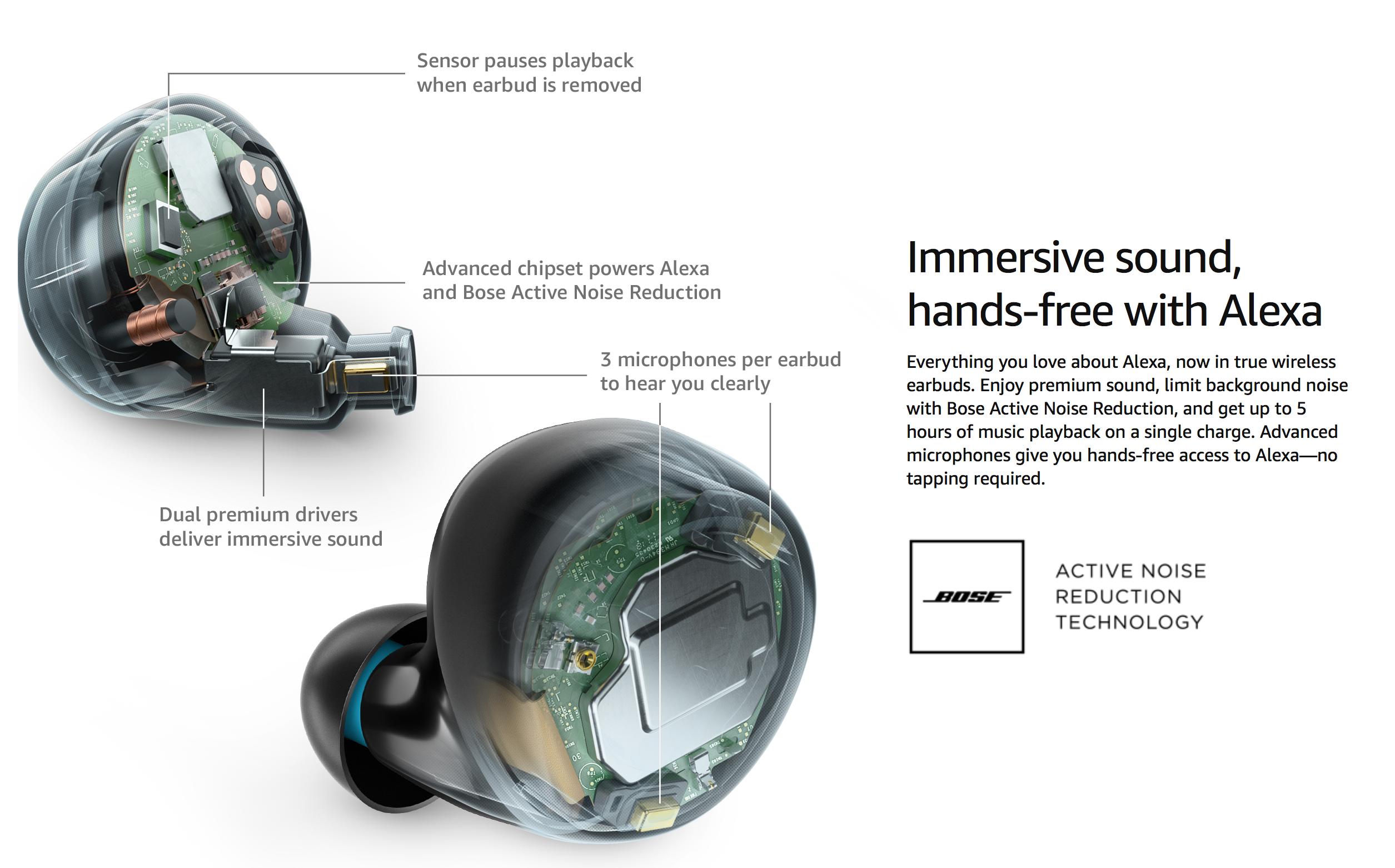 Echo Buds are legit from a specs and pricing standpoint. Come October 30th when they launch, Echo buds will be retailing for $129.99, which are about $30 cheaper than AirPods v1 (v2 retails for $199). They'll have 5 hours of battery life, with a pocket-sized companion charging case containing an additional 20 hours. Amazon partnered with Bose to provide active noise cancellation in Echo Buds, creating a stark differentiator between the two. In addition, Echo Buds consist of three microphones on each bud, which will allow for pass-through audio so the user can simply tap the mic to clearly hear their environment around them.
Quick update.
– the noise canceling in the Echo Buds is excellent as is the pass-through mode. I am told that is the only tech that Amazon used from Bose in Buds
– I was also told that Echo Frames were built completely in house by AMZN. No collaboration there with Bose.

— Bret Kinsella (@bretkinsella) September 26, 2019
So, the big question I have following Amazon's hardware event is, "how will Apple respond to Echo Buds?" I would be very surprised if Apple does not include active noise cancellation in the next iteration of AirPods, as well as match some of the other hardware specs that might make consumers inclined to purchase Echo Buds over Beats or AirPods. The much more challenging aspect to Echo Buds for Apple to match will be a version of Siri that can go toe-to-toe with Alexa and its third party ecosystem.
I'm not a big predictions person… but I'm predicting that the Echo Buds will be among the top 3 grossing items this holiday season (if they don't sell out).

At $129 with wireless Bose hardware and Amazon home banner promotion – these things are priced to move 🚀

— Braden Ream (@ReamBraden) September 26, 2019
Apple has been virtually dormant on the voice assistant front dating all the way back nearly a decade ago after the company bought Siri. To this point, Apple has seemingly not felt compelled to focus on Siri, which was made even more apparent at Apple's hardware event earlier this month when the company did not mention Siri once (aside from one product video shown where an actor briefly used the voice assistant). Given that Apple's growth story is so closely tied to its wearables, Alexa-powered Echo Buds might serve as the catalyst for Apple to finally get "Sirious" about its voice assistant, as a lackluster Siri could eventually be the perceived in the market as the main culprit behind slowing wearable/hearable growth.
3. A Rising Tide Lifts all Boats Hearables
Echo Buds entering into the arena, means that all four major US voice assistant providers, Apple, Samsung, Google and Amazon, offer a proprietary hearable for their voice assistant. To date, the voice assistant war has largely been contained to the far-field and the pocket, as each company has been vying for users to opt for their smart speakers and displays, or to use each company's voice assistants through the users' phones. Now, given Amazon's lack of a mobile ecosystem, it probably has more of an incentive than Samsung and Google to challenge Apple's ear-dominance, which would extend the war to the near-field.
As I wrote in my update on Tuesday, "smart ear-worn devices will continue to proliferate from all directions (consumer/medical/industrial/etc), leading into a new phase of specialization and new cool features, as many of the features that might be novel today, become ubiquitous and a standard over time."
Much of what is considered "novel" today, such as voice-assistant access, is quickly becoming standardized. You'll likely be hard-pressed to find a pair of wireless headphones in the next few years that don't have some type of voice-assistant access made readily available. So, as the novelties become universal features, new novelties will emerge as we enter into the next phase of innovation.
To add to this point, I reached out to Andy Bellavia, Director of Market Development at Knowles corp, to weigh on in the Echo Buds, which will each contain two Knowles balanced armatures:
"The move toward premium sound is the next logical evolution in true wireless earphones & hearables. Previously, developers of hearables were absorbed with basic problems like connectivity and battery life. These issues are for the most part solvable today, allowing designers to improve the user experience in other ways. With Bluetooth codecs improving and high-resolution streaming services proliferating, better sound is now very much on the radar. The Knowles woofer-tweeter balanced armature system chosen by Amazon delivers premium sound while maintaining the exceptionally small size required for hearables to fit comfortably." – Andy Bellavia of Knowles Corp
So, as the major tech companies battle each other to win all of our ear-share, specialty in-the-ear smart devices, such as hearing aids, are in position to reap much of the innovation stemming from this war. As Alexa, Siri, and Google Assistant become more compelling to use through Echo Buds, AirPods, and Pixel Buds, it should be noted that much of the same functionality will be available in third-party devices that have voice assistant integration (which is what's becoming standardized). It's basically free innovation and new use cases.
Just as today's consumer electronics saw many of the, "peace dividends of the smartphone wars," tomorrow's hearables should see similar types of dividends from this new war being waged by the same giant tech companies. A rising tide lifts all hearables.
-Thanks for Reading-
Dave
To listen to the broadcast on your Alexa device, enable the skill here
To add to your flash briefing, click here
To listen on your Google Assistant device, enable the skill here 
and then say, "Alexa/Ok Google, launch Future Ear Radio."