Yesterday, Apple hosted its annual September event to show off its new set of products that are set to go on sale as we enter into the last quarter of the year. Although the bulk of the announcements were focused on the new iPhones set to debut and all the upgrades in the phones' cameras and processors, there were a few other announcements that I thought were interesting and worth writing updates for. Today, I am writing about the Apple Hearing Study that was announced.
In the upcoming Apple WatchOS6 update that is due out September 19th, there will be a new sound level feature included that the user can configure to appear as one of the readouts on the watches' display. Apple will be using the microphones on the watch in a low-power mode to always be recording your environment's decibel level, which will then be visualized on the watch, and display green, yellow or red based on the volume of the noise. The knee jerk reaction might be to say, "wait they're always recording me?" but, no, Apple has stated that it's not going to save any of the audio; they'll only be saving the sound levels.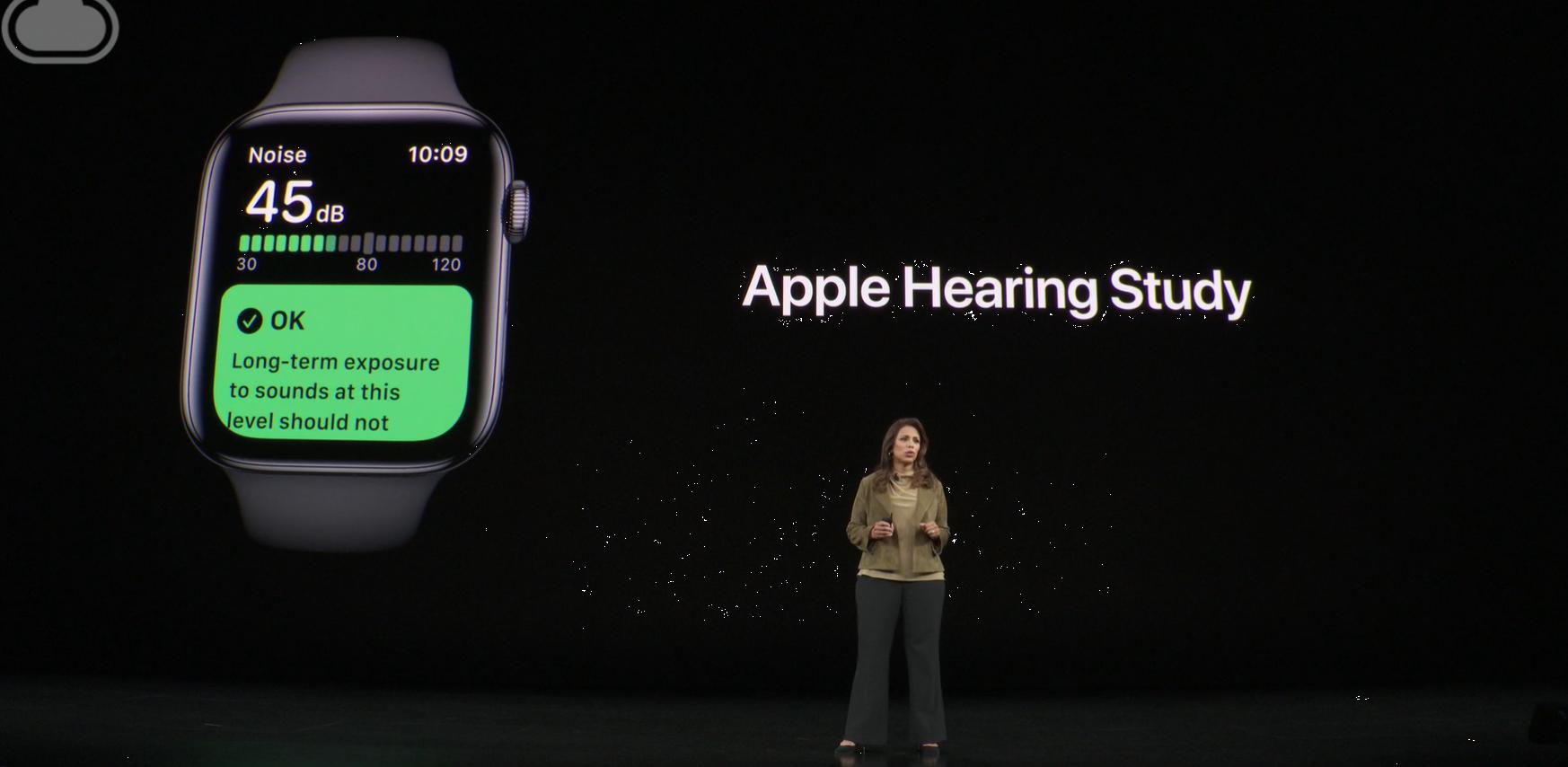 The Apple Watch Series 5 that was announced will feature an, "always-on display," implying that future generations will feature an always-on display as well. Therefore, users who have configured their Apple Watches' display to show the sound level meter, will constantly be able to assess how dangerous the sound levels are in their environment.
In my opinion, this is a bigger deal than it might appear, because people tend to lose their hearing loss gradually. One of the big reasons why is because they're completely unaware that they're exposing their ears to dangerous levels of sound for prolonged periods of time. As an Apple Watch user myself, the ability to be able to quickly glance at my watch to assess how loud the environment I am in is really appealing. An always-on display will just make this effect more pronounced, hopefully leading more people to considering keeping hearing protection, like high quality earplugs, on them at all times. It can't be understated how powerful the effect will be on peoples' psyche to constantly see that sound level bar flicker or linger in the red.
So, as this new feature becomes available to all Apple Watches running on OS6, Apple will overnight have an army of users who can gather data on their behalf. Which brings us to the Hearing Study that Apple will be conducting in conjunction with the University of Michigan and the World Health Organization. Here's Michigan professor Rick Neitzel, who will lead the study, describing the purpose:
"This unique dataset will allow us to create something the United States has never had—national-level estimates of exposures to music and environmental sound. Collectively, this information will help give us a clearer picture of hearing health in America and will increase our knowledge about the impacts of our daily exposures to music and noise. We've never had a good tool to measure these exposures. It's largely been guesswork, so to take that guesswork out of the equation is a huge step forward."
Users will be able to opt into this study, or the other two studies that were announced at the event, through a new Apple Research app. As I wrote about in August, Apple is slowly inserting itself further and further into the healthcare space, by being the ultimate health data collector and facilitator. This is just another example of Apple leveraging its massive user base to quickly gather data around the various sensors embedded in Apple's devices at scale to offer to researchers. Creating a dedicated app to facilitate this data transfer, with explicit user opt in, will shield Apple from scrutiny around the privacy and security of sensitive data.
Apple's wearables are increasingly shaping up to be preventative health tools, or as Apple has described "guardians of health." The introduction of a decibel level output on the Watch's display is another incremental step toward becoming said, "guardian of health," as it will help to proactively notify the user of another danger to their health:  gradual hearing loss. It's not hard to imagine future generations of AirPods supporting the same feature using mics to sense the sound levels, but instead of a notification, perhaps they'll activate noise cancellation to protect one's ears. One can hope!
-Thanks for Reading-
Dave
To listen to the broadcast on your Alexa device, enable the skill here
To add to you flash briefing, click here
To listen on your Google Assistant device, enable the skill here 
and then say, "Alexa/Ok Google, launch Future Ear Radio."